Fear. Frustration. Anxiety. Stress. Depression. These were the everyday emotions that Lloyd Gamboa has dealt with over the past two years of the COVID pandemic as a registered nurse working in the intensive care unit at the university medical center.
Like other nurses, Gamboa has worked to fight COVID-19 with limited protective equipment, taking overtime and, at times, isolating himself from his family.
"I was emotionally exhausted, causing depression, disappointment," Gamboa said at a press conference. event last month with Governor Steve Sisolak. "We are all doing our best to contain the virus. "
But for Gamboa and other Asian Americans, the pandemic's struggles have extended beyond the virus. Anti-Asian violence last year significantly increased, while the pandemic has fueled hostility towards people of Asian and Pacific Islander descent, with some even calling COVID-19 the "Chinese virus" or "Wuhan virus".
"We were fighting two viruses – the one of hate and racism, then the real coronavirus," said Elizabeth de Leon-Gamboa, a registered nurse from the Philippines. "But we still have to celebrate who we are, so that's one thing we do – encourage our nurses to be proud of where they come from. "
Amid these increased burdens, the Nevada Philippine Nurses Association (PNANV) supports the state's Philippine nursing community through community service and education, cultural connections, and advocacy for health. Mental Health.
Charina de Asis, director of the state's office for new Americans, said Filipino nurses have long played a role in the country's health system, with nurses trained in the Philippines helping fill staff shortages throughout. of the twentieth century, including WWII and the AIDS epidemic.
They have continued to play an important role in recent years. A study earlier this year estimated that one in 20 registered nurses in the country were trained in the Philippines, and in 2018, immigrants to the Philippines made up more than a quarter of all immigrants working as registered nurses in the country, according to the left-wing party Institute for Migration Policy.
De Asis also highlighted the heavy toll the pandemic has taken on Filipino nurses fighting COVID-19 on the front lines. A study conducted last year by National Nurses United, the country's largest organization of registered nurses, found that almost a third of registered nurses who died from COVID-19 or related complications in the first six months of the pandemic were Filipinos.
Although PNANV focuses on unifying Filipino nurses in Nevada, the organization's membership encompasses a wide range of ethnicities and the group accepts any registered nurse in Nevada. As he grows up, de Leon-Gamboa, who is the group's president, hopes to broaden members' voices outside of their traditional boundaries in healthcare settings.
Promote education
De Leon-Gamboa's mission to amplify the role of Filipino-American nurses in Nevada and advocate for others as it stems from her own beginnings as an immigrant nurse.
Despite her previous work experience in the Philippines, de Leon-Gamboa said she was relegated to lifting and feeding patients when she started as a licensed practical nurse in California in the 1990s – responsibilities that differed markedly from tasks. more advanced medical care, such as the administration of medication. , which she did in her home country.
"I've even seen patients tell me to go home because I didn't know how to do things," she said. "Sometimes you would have [registered nurses] looking at you and … they were making fun of me a bit, because I didn't know how to use the [digital] thermometer. And we only had glass thermometers in the Philippines at that time in the 90s. "
Looking back on her own experiences as an immigrant nurse, de Leon-Gamboa said she doesn't want others to go through what she's been through and that her goal is to make sure every nurse is supported by his peers and has the chance to grow up.
This mission was embodied by the PNANV Mentorship Program, which helps immigrant nurses adjust to life and work in a new country by helping them learn English and overcome other cultural barriers.
De Asis noted that the United States has traditionally relied on Filipino nurses as a "primary channel" to address staff shortages, dating back to the period of American colonialism in the Philippines at the beginning of the 20th century. Meanwhile, Filipino nurses trained at Westernized medical facilities have had greater opportunities to travel to the United States for further training, and since then immigrants to the Philippines have made up a growing share of the country's nurses.
PNANV previously worked with de Asis and the Office for New Americans to review Nevada's licensing guide for internationally educated nurses and to ease the transition for immigrant nurses, many of whom are Filipino.
"We are trying to help them regain that confidence when they start their careers here," said de Leon-Gamboa.
The group also aims to promote professional development in several other ways, including offering continuing education units to ensure that its members can renew their professional licenses. The group also offers seminars and courses that are offered more widely to the public, including its FilipinoNARS podcast and a stop the bleed course to prepare people to deal with trauma and train them in the use of tourniquets.
Promote personal care
The organization also helps its members to develop personally, and de Leon-Gamboa stressed the importance for nurses to take care of themselves.
During the pandemic, healthcare professionals battled increasingly negative conditions for their mental health, and many workers in the industry reported increased feelings of stress and depression.
"A lot of our nurses are still working on the front lines… They are overworked," said de Leon-Gamboa. "Then patients die left and right without their family members by their side, which has caused a lot of mental anguish for these nurses. "
She said PNANV played a role in "just leaving [its nurses] know that we are actually here for them as an organization ", especially since some members have contracted COVID-19.
At the event held with Sisolak last month, Emerlinda Sambo, vice president of PNANV, spoke about her own experience contracting COVID-19.
"I went [into a] depression because I can't walk from here to this door. I was short of breath… My thought was, "What am I going to do now?" I am very young. I can't go back to work, "Sambo said. "As a nurse practitioner, I realized that I had to take care of myself before I could take care of everyone."
De Leon-Gamboa said mental health is of "the utmost importance" among nurses right now, and PNANV has offered courses aimed at helping its members take better care of themselves. The organization also provided members with other self-care treats, including gift certificates for massages and facials.
"You cannot give from an empty cup. You want to make sure you fill yourself up before you can help others, "said de Leon-Gamboa.
A presence in the community
De Leon-Gamboa also sees PNANV as a group that plays an important role in the community, helping the families of its members and volunteering in multiple ways. During the pandemic, PNANV and its members took on new responsibilities, helping their communities outside of hospitals, clinics and doctor's offices.
This includes partnerships with the National Alliance of Filipino-Americans and attempts to mitigate the spread of COVID-19. Throughout the pandemic, PNANV members have helped with immunization clinics and delivered food, masks and face shields – which group members have handcrafted amid widespread distribution shortage of personal protective equipment – health workers and establishments in need.
These efforts even allowed former nurses to come out of retirement to participate in community health events, including Michael Collins, who worked as a registered nurse at University Medical Center.
"In March, when [de Leon-Gamboa] called for people to come and volunteer at the Shanghai Village Immunization Clinics, I jumped at the chance because I can't think of anything more urgent, "Collins said at the event last month.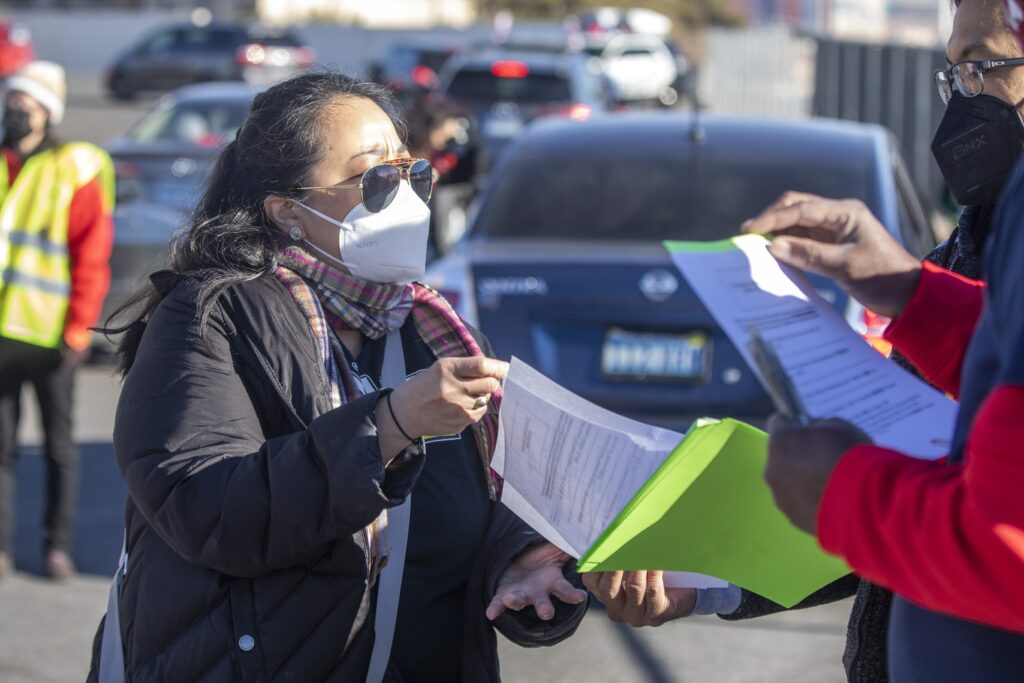 The organization's community service goals and advocacy extended even beyond the borders of Nevada.
"Here in the United States, we are already on our third dose," said de Leon-Gamboa. "But in the third world countries where we come from, like the Philippines, some people have not even received their first dose of immunization."
De Leon-Gamboa said the organization has called on Nevada senators and the US Secretary of State to "help with the rapid spread of COVID vaccines to third world countries, especially the Philippines."
Going forward, de Leon-Gamboa hopes to continue the group's education and advocacy efforts and expand its role in the state.
"Gone are the days when we were on the sidelines, and we were just like, 'Okay, we're taking the doctor's orders,' she said. "We can do more outside the confines of the institution. There is so much more we can do as nurses and as individuals.