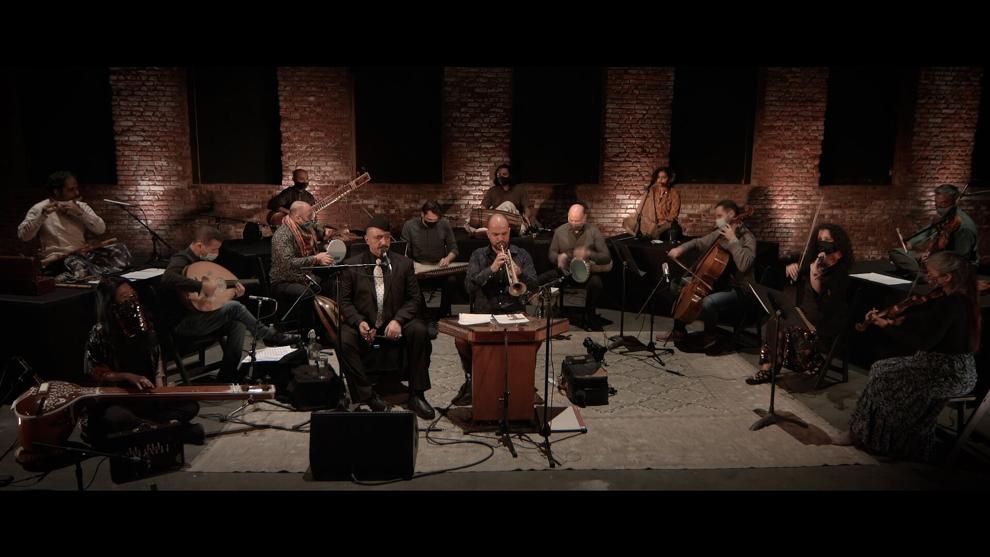 WILLIAMSTOWN – As the world becomes smaller and more accessible, deeply rooted musical traditions can be shared more easily among musicians from different disciplines. Audiences are lucky enough to experience one of those moments as Raga Maqam – an ensemble from the Brooklyn collective Raga Massive – explores the confluence of two distinct but distant musical forms of Indian and Arabic cultures, in Williams College's sprawling Chapin Hall. , 7:30 a.m. Tuesday, April 5.
It all started with a jam session, Arun Ramamurthy, co-founder, artistic director and violinist of Brooklyn Raga Massive, said in a phone interview from a cafe in Brooklyn, NY.
"Growing up, I studied Western and Carnatic classical music from South India," said the New Jersey-born Indian-American, "and played with the Indian diaspora community."
He moved to Brooklyn as a young adult "and started collaborating with other genres from different parts of the world, trying to find my voice".
Meeting musicians of classical Indian descent and others who discovered Indian classical music in their twenties, "we were like-minded musicians coming together", he recalls.
"In 2012 a group of us started a more classic weekly jam session, sharing music with friends." Openness and collaboration with musicians and cultures was at the forefront of their mindset, Ramamurthy explained.
As its popularity grew, the Brooklyn Raga Massive ensemble was formed to present music on other stages. It was officially founded in 2015 and today has more than 50 members, in partnership with artists from all over the world.
Early on, special interest groups emerged from the collective; and, in 2017, one of four shows they held at Lincoln Center called "Outside India" spawned Raga Maqam.
"It was something I wanted to do for a long time," Ramamurthy said, "there were a lot of connections between musical styles, even culture."
Both forms are heavily improvised around a structured modal framework. The South Indian Raga is predominantly Hindu, while the Maqam is predominantly Muslim, spanning the Middle East, North Africa and Central Asia. Hindustani music from northern India is a blend of the two religious cultures.
Although the styles developed separately, they share historical cross-pollination; and this new collaboration embraces and expands both their rich history and traditions.
The band's musicians come from different backgrounds and national heritages, including Palestine and Iraq, each adding their own particular flavor to the mix.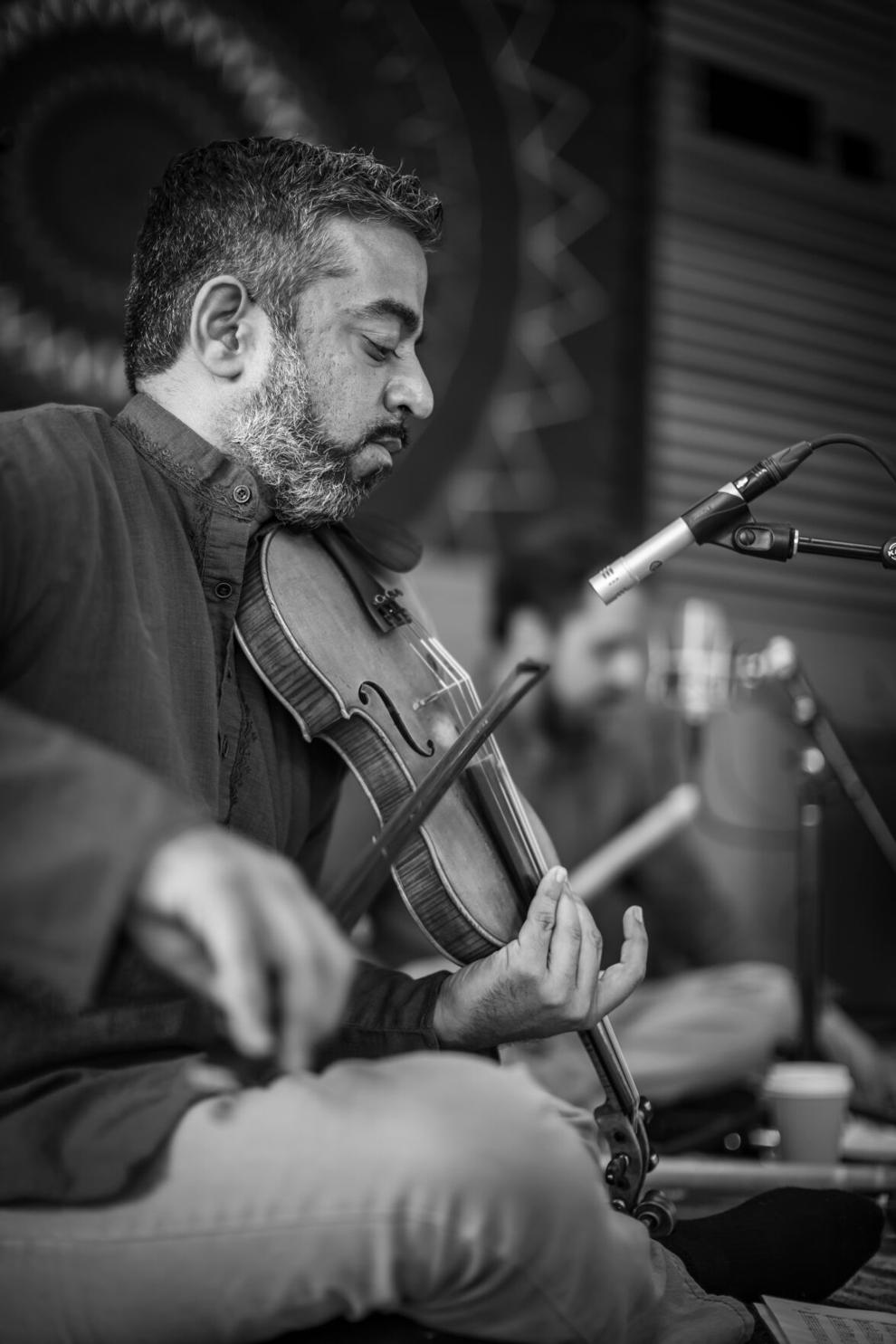 Violinist of the ensemble, Ramamurthy comes from a family of musicians. Her mother sang for classical Bharatanatyam dancers and her father organized Indian music tours. His grandmother, who played the violin, lived in a small Indian village and "visited him for a year at a time", he recalls. She encouraged all of her grandchildren to play the violin; but he was the only one to "take". While she died 15 years ago, "I still think of her," he said. "Her inspiration and influence was incredibly strong and still is. She was a very progressive spirit when it came to music, and was probably the biggest advocate for me to explore outside of mainstream music. [Carnatic] the music."
Western instruments such as the fiddle were introduced to India by the British in the 1800s, Ramamurthy noted.
"It's a fantastic instrument for raga music — it's fretted, so you can sustain the notes, and fretless, so you can move from note to note. This ornamentation, called gamaka, is an integral part of the music.
Joining Ramamurthy at Williams are Raga musicians George Ziadeh, oud; Firas Zreik, kanun; Nitin Mitta, tabla; and sitarist, Hidayat Khan, son of legendary sitar virtuoso Vilayat Khan; plus Maqam Jay Gandhi players, bansuri; Naseem Alatrash, cello; and Zafer Tawil, oud and percussion.
Besides the more familiar violin and cello, instruments include the pear-shaped lute oud; bansuri bamboo flute; tabla hand drums; the long-necked sitar lute with calabash resonator; and kanun, a large plucked zither with 78 strings. Each instrument is highlighted in solos during the concert.
While BRM has performed as far away as the Netherlands, this is a rare opportunity to hear Raga Maqam outside of New York. (A 15-member Raga Maqam ensemble spent a week in residence at the Massachusetts Museum of Contemporary Art and recorded at Studio 9 in Porches in April 2020.) His visit is part of the Ernest Brown World Music series, named after the late professor Williams. and ethnomusicologist who led the Zambezi Marimba Band on instruments he built himself. Recent guest artists include the tango quintet of Pablo Aslan, the Senegalese Lamine Touré and the group Saloum, The Nile Project and a Korean singer Pansori.
"It's always a joyful thing to have music on campus, to be able to enjoy each other's company and presence in this really special way," noted music teacher Corinna Campbell by phone from Williamstown.
The Raga Maqam musicians will also lead workshops for sitar and tabla students Veena Chandra and Devesh Chandra, who have taught Indian music at Williams since 2014."[Their] students learn the basics of Hindustani classical music," observed Campbell. "BRM takes these ideas and principles and pursues different types of collaboration, experimental types of work that go beyond this rich musical tradition of North India."
Seeing a growing interest in Arabic music at Williams, having an ensemble talking about the ways people can converse musically through the connections between Raga and Maqam "is a wonderful confluence of circumstances," she added.
Complementary free public programs include a lecture on the Maqam by violinist Sami Abu Shumays on April 15 and a lecture by Professor Matthew Rahaim on North Indian singing on April 28.
Campbell encourages people to "listen widely and be aware of all of these amazing musical practices that are out there. They really can be windows to different kinds of experiences and connections, which BRM demonstrates very clearly. »
She quotes the ensemble's co-founder and trumpeter Amir ElSaffar, who composes music for the ensemble: "At the end of the day, we don't approach this as 'tradition meets tradition', but rather as musicians meeting, having a musical conversation, exploring, and in the moment of dealing with sound.
Ramamurthy adds, "We all play with our hearts and our stories, so that shines through every time we play."
"If the audience comes with an open mind ready to immerse themselves in the sounds and the spirit of connection, they will have a great time."